October 2020 Newsletter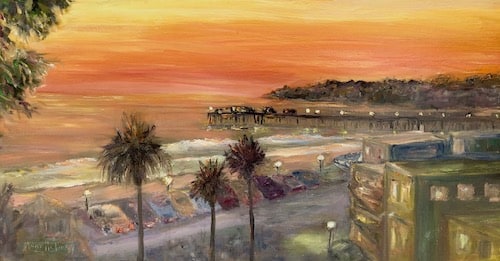 Vibrant Art Studio's October Newsletter
First off I would like to thank everyone that signed up for my newsletter. it makes me feel validated as an artist. My first art give away is complete. A BIG congratulations goes out to Kindra Ericksen who won the metal print of "Capitola Sunset." I promise that I will have more art give-aways. Everyone that entered the drawing did received a coupon for %25 off everything on my website for a week. In the end everyone is a winner.
BIG ANNOUNCEMENT! 🎉 You can now use my website to print YOUR OWN IMAGES on the same archival quality materials I use for my own work. Details 👇👇👇
I have been an artist for years. I have tested, printed, and sold reproductions of my work on a number of different mediums and with a range of different printing companies.
Do that long enough and you end up becoming an expert in all things related to printing fine art and photography.
As such, people frequently ask me…."Hey I want to get some prints made... where should I go... what medium should I use if I want it to last... what size is best.. can you help?"
After having helped many friends over the years, I decided to take the next step and actually offer this service to everyone.
Here's how it works:
Upload your image

Choose the size and media type

Crop your image (if needed)

Order!
And here's why I've gone through the trouble to put this together:
The majority of budget print shops out there (especially the mass-retailers) are using the cheapest possible materials to make their prints. They are not "archival", which means they usually turn yellow or start cracking or deteriorating in some way after only 2-3 years.
This really bugs me because I know how much time you spend printing and framing family photos, travel photos, etc. expecting them to look great in your home or office for years to come.
To fix the problem, I've hand-curated a selection of premium and budget media types and made them available through my website. They are all hand-picked by me, even the budget ones, to offer you the best resolution, color, and overall image quality possible. And give you the most value at any level.
There's paper and canvas for traditional looks, but also new, modern mediums such as acrylic, metal, and wood that look simply AMAZING.
Everything is backed by the same quality and service guarantee that comes with all of my own work.
Here's the link the check it out! https://vibrantartstudio.artstorefronts.com/upload-and-print . Need help going through the process and making a selection? Just reach out to me and I'd be more than happy to help. Annette@VibrantArtStudio.com .
If you would like to try out printing some of your own photos use coupon code UPLOADNOW for a 15% discount.
I have no scheduled art competitions in October. October travel plans include a trip to Texas to help one of my daughters with her business, "Dion Bikinis", at a body building competition.
Saturday November 14 I will be doing a virtual open studio. Please save the date. Since I am mainly a Plein air (outdoor) painter my studio is pretty much any place outside. I will be doing art demos via zoom to show my art process and give a tour of the RV I traveled in during my art trip this summer where I visited and painted in 11 states. There will be some giveaways and of course lots of art for sale. Keep you eye out for the email and facebook invites. I look forward to seeing you there.
Artfully yours, Annette Dion McGowan